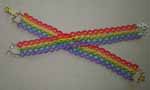 Bracelets/Anklets

Wedding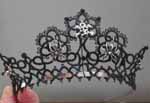 Tiaras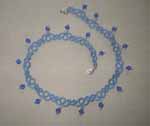 Necklaces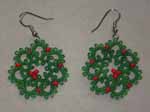 Holiday Items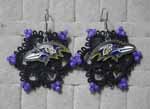 Sports
Tatting is a form of knotted lace which is quite different from both crocheting and knitting. It is delicate and yet sturdy because of the nature of the knots. Each piece is lovingly hand made by me right here in the U.S. with the finest materials available.
Follow me on Facebook! See what the inspiration is behind the new collections. For example, I have a friend in the Washington Balalaika Society so I had the orchestra in mind when working on this WBS collection. I also recently acquired awareness ribbon charms in a variety of colors (not just pink!). Click here to see how they turned out. Join in the conversation. Suggest a new design or color combination. Maybe even win a contest. Tatting by Wendy - lace jewelry. If Instagram is your thing, I'm there as Wendy_the_Lacemaker. Both Facebook and Instagram are about a lot more than just lace.
What is shown here on these pages are just the tip of the iceberg of what I can make for you. These earrings are so lightweight you won't feel them pulling on your ears, even after a long day. If you have a favorite color, let me know and we can work together to design something just for you. click here for a sample of my design-to-match work. Consider a custom-made piece for your wedding. Also, these unique and high quality artisan pieces would be truly memorable gifts for Valentine's Day, bridal attendants, birthdays, anniversaries, Easter, Mother's Day, Christmas, and other occasions.
The latest designs available are snowmen, ducklings, seahorses, sheep, owls and even an octopus. Check them out here.

I have started to design tiaras too. Check out my Facebook page to see what people are saying!

Some experimental and/or difficult to re-create items are listed only in my Etsy store. Please feel free to check that out too. If you wish to order from both sources, please let me know so I can combine the shipping for you.





Next shows



Maryland Spring Craft Show
in conjunction with the
Maryland Home and Garden Show
February 29, March 1
10:00 - 8:00 Saturday
10:00 - 6:00 Sunday
and
March 6 - 8
10:00 - 6:00 Friday and Sunday
10:00 - 8:00 Saturday
Md State Fairgrounds
Timonium, MD
Exhibition Hall Space C508


Please feel free to contact me for a free personal appointment for a custom design session. Come to my home in Silver Spring, MD or we can pick a mutually convenient location, like a coffeshop, etc. Bring along that hard-to-match outfit and see what we can design together. Please e-mail me at wendy@tattingbywendy.com.



Click here for the complete SCHEDULE. My work is also available through my Etsy store

Also recently added is a page of poppy earrings.